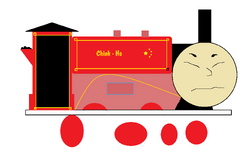 Chink-Ho
Wheel configuration: 0-4-0
Color: Communist Red
Voiced by: UnknownThomasFan1
Chink-Ho is an Asian injun that r̶i̶v̶e̶s̶ lives on The Land Surrounded By Water. A mystery of the orient, Chink-Ho excers in science and mathematics.
Trivia
He celebrates the Chinese new year by lighting flatbeds on fire in the shunting yards.
Ad blocker interference detected!
Wikia is a free-to-use site that makes money from advertising. We have a modified experience for viewers using ad blockers

Wikia is not accessible if you've made further modifications. Remove the custom ad blocker rule(s) and the page will load as expected.