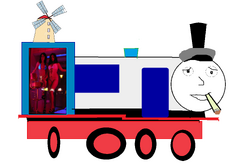 Daan
Wheel configuration: 0-4-0
Color: Red, White and Blue
Voiced by: Tug97
Daan is a Dutch injin that lives on the land surrounded by water. When he first arrived from the Netherlands, he introduced marijuana and hookers to the injins on The Land Surrounded By Water. 59 fatalities occurred on the aforementioned day.
Trivia
He built the island's first windmill.
Despite his name, Daan is not a parody of Den from the rancid, low-budget movie Die uf da Dezulz.
Ad blocker interference detected!
Wikia is a free-to-use site that makes money from advertising. We have a modified experience for viewers using ad blockers

Wikia is not accessible if you've made further modifications. Remove the custom ad blocker rule(s) and the page will load as expected.