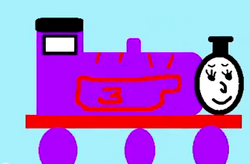 Emily
Wheel configuration: 0-3-0
Color: Pink
Voiced by: UnknownThomasFan1
Emily is an Italian E2 injin that had an affair with Dezul. She is the mother of Jared.
Appearances
Trivia
Emily is simply Tomas recolored, and drawn with a different face.
Despite her name, Emily is the first injin not to be a parody of a character from Thomas & Friends.
Ad blocker interference detected!
Wikia is a free-to-use site that makes money from advertising. We have a modified experience for viewers using ad blockers

Wikia is not accessible if you've made further modifications. Remove the custom ad blocker rule(s) and the page will load as expected.