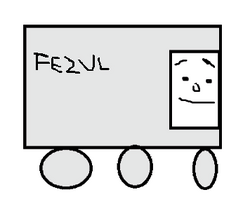 Fezul
Wheel configuration: 0-3-0
Color: Gray
Voiced by: UnknownThomasFan1
Fezul is Dezul's retarded brother. Dezul is incredibly annoyed by his retard antics, and thinks he probably should've been aborted. But despite this, he is still glad his brother is who he is, rather than being Toben.
Appearances
Trivia
Fezul is a recolor of Dezul. (you'd never figure dat out, n00b.)
Despite his brother being his enemy, Tim enjoys killing cats with Fezul.
Ad blocker interference detected!
Wikia is a free-to-use site that makes money from advertising. We have a modified experience for viewers using ad blockers

Wikia is not accessible if you've made further modifications. Remove the custom ad blocker rule(s) and the page will load as expected.