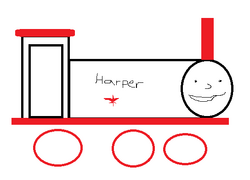 Harper
Wheel configuration: 0-3-0
Color: Maple Leaf Red
Voiced by: TBA
Harper is a Canadian injin who came to The Land Surrounded By Water after being exiled due to a panty-raid scandal in Toronto.
Appearances
Edit
Haper's driver was once Rob Ford, before he drove Harper into a brick wall at 90 MPH and was cited for rape.
He has a particular hatred for liberals and the French.