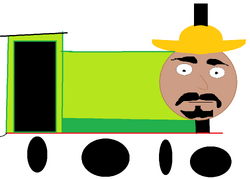 Pedro
Wheel configuration: 0-4-0
Color: Montezuma's Revenge Green
Voiced by: TBA
Pedro is a Mexican injun that lives on The Land Surrounded By Water. He is The Morbidly Obese Controller's personal engine, and his job is to collect welfare checks and sell dirty tacos.
Trivia
He once taught Sir Robert Norramby to climb over fences.
He has yet to apply for a green card.
Gallery