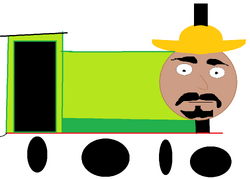 Pedro
Wheel configuration: 0-4-0
Color: Montezuma's Revenge Green
Voiced by: TBA
Pedro is a Mexican injun that lives on The Land Surrounded By Water. He is The Morbidly Obese Controller's personal engine, and his job is to collect welfare checks and sell dirty tacos.
Trivia
He once taught Sir Robert Norramby to climb over fences.
He has yet to apply for a green card.
Gallery
Ad blocker interference detected!
Wikia is a free-to-use site that makes money from advertising. We have a modified experience for viewers using ad blockers

Wikia is not accessible if you've made further modifications. Remove the custom ad blocker rule(s) and the page will load as expected.