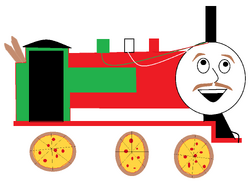 Silvio
Wheel configuration: 0-3-0
Color: Italian
Voiced by: Tug97
Silvio is an Italian engine that works on The Land Surrounded By Water. He delivers pizza and bread sticks to all of the hungry children in the land.
He does not hesitate to make a racist joke when the circumstances allow it.
James With a Mustache is his twin brother.